TORNASHEAN
Relaxed & Peaceful
About Us
Tornashean has 7 double bedrooms plus an insulated kennel for up to 3 of our 4 legged friends
Built from attractive pink granite, and approached along its own private lane, this large Highland lodge is set in its own private estate in a tranquil and beautiful setting. Well-maintained gardens and policies, fields and woodland of 70 acres including a mile long double banked beat of private water on the upper river Don. 
Perfect accommodation for large families, gatherings or parties of bird watching, fishing or stalking enthusiasts. 
Weekly lets run from Saturday 4pm to 10am the following Saturday.
It is lovely having the estate to wander around, & the river is idyllic. The house is very well appointed, we especially enjoyed the billiards table
Mrs Walker
Click on images to enlarge
FILMING LOCATION
As seen in the film 'Mary Queen of Scots'
In late September 2017 Tornashean played host to Working Title Film Company (Clandestine Films) for one of the most surreal ten days ever experienced by Strathdon
Rooms & Accommodation
This large, self catering holiday house in Strathdon, Scotland, offers seven double bedrooms (including one bunkroom), a large dining kitchen with a range, a large and elegant dining room with a 16ft table and open fire. Spacious sitting room with an open fire, billiards room with full sized table and a snug. The house has Broadband internet connection.
Kitchen
Tornashean has a spacious and well-equipped kitchen with a breakfast area, slate floor, range plus an electric cooker and a door to the patio. Also an adjoining Utility Room and Snug with wood-burning stove. Cloakroom/W.C
Dining Room
The delightfully spacious dining-room, complete with 16ft dining table, oak floor and open fire, is the perfect setting for a family feast. French doors lead to the Billiards Room
Sitting Room
Tornashean's large living room and snug with open fires, create a cosy ambience in which to relax and enjoy a nightcap. The snug has a television
Master Bedroom with King Sized Bed
Master bedroom with King sized bed and en-suite bathroom
Three additional Double Bedrooms
Tornashean also has three more large double bedrooms with one super king sized and two King sized beds. One of these has an ensuite bathroom and the other two may use a house bathroom with shower and also a modern and stylish shower room
Two Twin Bedrooms
Two twin-bedded rooms, one with en-suite bathroom with shower attachment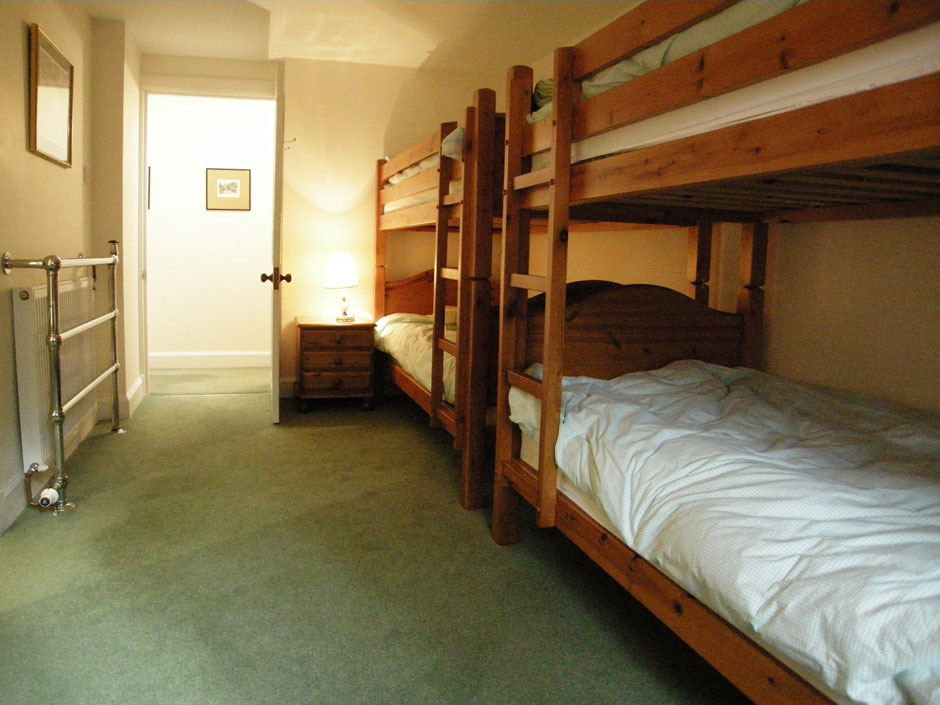 Bunkroom
Bunk bed room with four bunk beds (for +2) and en-suite bathroom with shower attachment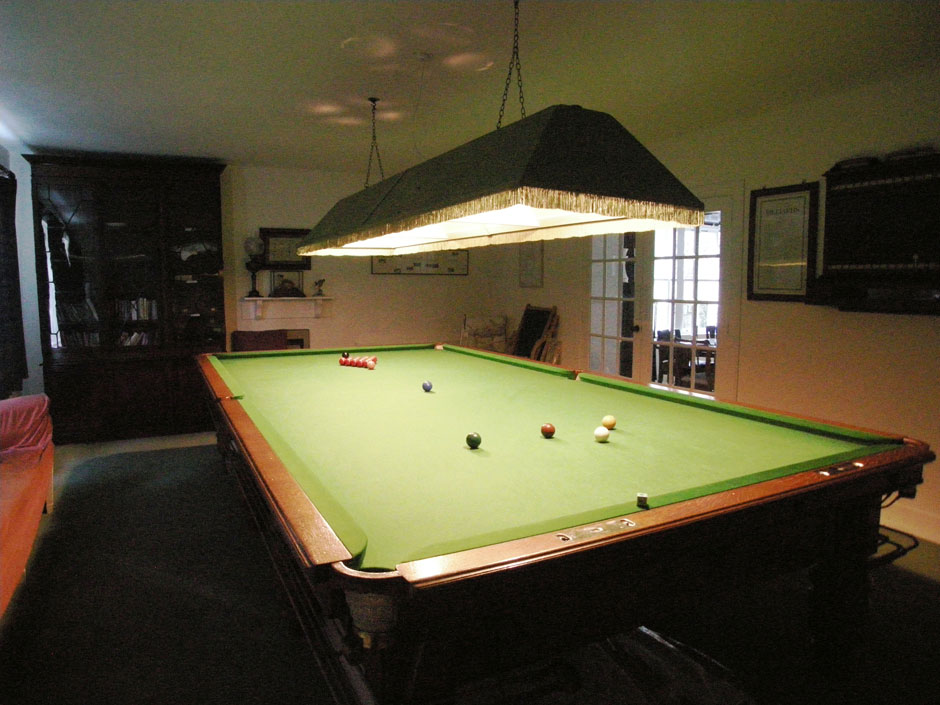 Billiards Room
The Billiards Room has a full size table which is over 100 years old. It provides ideal entertainment during the evenings and in poor weather
Snug
The snug is a very cosy room with woodburner and modern television
Shower Room
In addition to three well equipped bathrooms, Tornashean has a modern and stylish walk in shower room
CATERING
Traditional Cuisine
Given enough notice, a lovely local lady and fabulous chef will cook a wide variety of dishes to cater for small or larger parties of people. From pies, savoury tarts and quiches, to sides of oak smoked salmon, local meats, free range egge and fruits to ready meals in trays for the oven which serve x 6. Side dishes, puddings and cakes.
Short Breaks
Between the end of October & the end of March we may let Tornashean out by the weekend. The prices would be £1500 for 3 nights or £1250 for 2 nights
We do not accept bookings for Stag nights, Hen Parties or 21st celebrations.
Dogs Welcome
Up to three dogs welcome in insulated kennels to the rear of the house
Towels & Bed Linen
All necessary towels, bed linen and blankets are provided
Cot Available
Please contact us for further information
Woodburner & Open Fire
Kindling & firewood provided for woodburner in the snug & open fire in the dining room
Wi-Fi
Wi-Fi, Telephone and TVs available, basic Sky Package, DVD & CD player
Laundry Facilities
Washing machine and tumble dryer for those getting dirty on the hills & river banks 
Garden & barbecue
Enclosed garden & barbecue for outdoor entertaining
Catering
Given enough notice, a lovely local lady & fabulous chef will cook a wide variety of dishes
Local Shop
Local Spar shop half a mile away in the village
Have a Question?
Talk to the Host
Information
Location & Nearby Attractions
Outdoor enthusiasts staying at Tornashean will be spoilt for choice, with trout and salmon fishing, shooting and stalking, hiking and bird-watching all on the doorstep. Cycling, canoeing and skiing are also all available to enjoy in the area around Ballater. Shops and pubs lie just a short walk away in the village centre. 
There are 70 golf courses in the Aberdeen and Grampian Highlands area, several within easy distance of Tornashean. Also close by is the Lecht Ski Centre, great for winter skiing and summer sports including Deval carts and mountain bike trails.
Restaurants & Pubs
The Steading Bar
A new bar in Strathdon, two miles down the road, is open most days of the week and has a cosy pub atmosphere with a good selection of drinks, malt whiskies and basic bar food.
Tel: 019756 51497
Kildrummy Inn
A very good restaurant eleven miles towards Aberdeen. Really lovely food from an award winning chef. Great atmosphere – open most days except Tuesdays.
Tel: 019755 71227
The Clockhouse Restaurant, Tomintoul
In Tomintoul seventeen miles over the Lecht. Fine Highland cuisine – a very good menu consisting of very well cooked local food. Highly recommended.
Tel: 01807 580378
Further afield in Ballater nineteen miles away:
Rothesay Rooms
Award winning Royal Deeside restaurant situated at the Old Royal Station. A tribute to Scottish flavours.
Tel: 01339 753816
Also highly recommended:
Clachan Grill
Bridge Street, Ballater.
Tel: 01339 755999
Lastly, for a very interesting experience we have the Fife Arms in Braemar – twenty  five miles away. The whole hotel is essentially an art gallery. Formal dining room plus the more casual Flying Stag restaurant.
The Fife Arms
Tel: 01339 720200
Dear Matthew,
Thank you for a great week! We had a lovely time at Tornashean.
The house was wonderful and perfect to come back to at the end of long days of activity. Thank you for the welcoming bottle of wine too.
Ian Murray and Carol Eagles were also a fantastic bonus to the week. We spent a couple of days with Ian – fly-fishing first and then a day of exploring the area, both of which were great fun – and Carol's delicious meals were a treat for us all.
Thank you too for recommending a visit to the Lost Gallery. We had no idea what to expect when we set off and increasingly as we ventured up the long track, but it was an amazing place and we enjoyed a fascinating chat with Peter Goodfellow.
Best wishes and many thanks again.
Michèle (and Caroline, Sally, Hilary, Mick, Julia and John)
I would like to take this opportunity to thank you for allowing us to share the delights of Tornashean. We look forward to returning to the wonderful house & location soon.
Mrs Janet Macredie, Nottinghamshire
It is lovely having the estate to wander around, & the river is idyllic. The house is very well appointed, we especially enjoyed the billiards table.
Mrs Walker
Tornashean is lovely & peaceful – the best place in the World to unwind & chill out. I had a few good wild brownies on the dry fly, but put them all back. Would definitely like to return & fish some other local rivers for salmon.
Bill Wainwright
Thanks so much for such a great week at your family house Tornashean. We had a wonderful time fishing visiting castles & even went to the Corgarff picnic & games. Also really nice to be able to bring our bikes & dogs & go on all the lovely walks.
The Partingtons, Northumberland
Fantastic spot, totally tranquil & relaxing, the sun shone & could not have had a better week!
The Naismith family
Visit Scotland in Style
Tornashean Estate
A week's stay includes 2 days fishing for up to 4 rods on Tornashean's beat & the freedom of the 70 acre Tornashean policies
Tornashean, Strathdon, Aberdeenshire, AB36 8UR
matthewbrooksbank@cwgsy.net
GET IT TOUCH
Please get in touch if you have any questions, wish to enquire about availability or to place a booking