TORNASHEAN
Location & Nearby Attractions
Activities
Outdoor enthusiasts staying at Tornashean will be spoilt for choice, with trout and salmon fishing, shooting and stalking, hiking and bird-watching all on the doorstep. Cycling, canoeing and skiing are also all available to enjoy in the area around Ballater. Shops and pubs lie just a short walk away in the village centre. 
There are 70 golf courses in the Aberdeen and Grampian Highlands area, several within easy distance of Tornashean. Also close by is the Lecht Ski Centre, great for winter skiing and summer sports including Deval carts and mountain bike trails.
Stag & Hind Stalking & Grouse Shooting »
Stag and hind stalking and grouse shooting can be organised with a number of local estates if enough notice is given. For stag stalking and grouse shooting especially, it is best to plan at least six months in advance.
Sporting Seasons of Scotland »
Tornashean's own beat on the Don (Tuition available) »
We also have our own fishing (1.1 miles of double bank) which holds some very good wild Brown Trout (but difficult to catch) and Salmon later in the season. Tickets available from Mr Neil Gallacher, Skellater House, Strathdon. 019756 51386 or 07711 969727.
Tornashean is conveniently placed as a self catering basefor fishing on the Dee (25 minutes to Ballater) the Deveron (50 minutes to Huntly), the Spey (50 minutes to Craigellachie and 40 to Grantown). The Avon (tributary of the Spey) is only 20 minutes away at Tomintoul.
For those who book well in advance, we can organisefishing tuition & courses on our own beat of the Don and on various famous beats on the Dee with Mr Ian Murray. He is very happy to teach absolute beginners or those with more experience. More info at www.lochnagar.net
Fish Scotland »
The best place to find good fishing generally on all the local rivers is to log on to the fantastic Fish Scotland website where an awful lot of good quality fishing is available – and also some very good last minute offers.
The Salmon Hatchery »
The Salmon Hatchery for the whole of the River Don is two miles down the road at Forbestown. It is at the Mill of Newe and is on the left hand side soon after the Colquhonnie Hotel and has a bright red door and car park. If any of the bailiffs are on duty they will be delighted to show you around the juvenile salmon at their various stages and explain the life cycle of this most incredible fish. This is also a very good place to take children who always find it very interesting. There is also a little fishery (man made loch) at Ardgeith (signposted to the right three miles down the road to Aberdeen). This is an ideal place for children to learn.
Ian Murray - Author, Fishing & Wilderness Guide, Royal Deeside »
Fish the rivers and learn to cast with a fly rod – introduction to Salmon fishing sessions are available throughout the year. Experience the tranquility of The River Dee or Don, everything can be provided including tuition, rods, waders and Landrover.
Ian's knowledge covers the history, heritage, land use, flora and fauna, folklore, Gaelic placenames, bushcraft and traditional skills, navigation, survival and basic mountaineering skills.
Alternatively, you may fancy bagging a Munro, spotting wildlife, a photo-safari or just enjoying the scenery – which is spectacular year-round. Ian will be happy to accompany individuals or groups on trips from a few hours to full day outings. Limited capacity available so please book early.www.lochnagar.net for more details >
Fishing Contacts & Tickets »
There is also very good fishing available further down the Don, and if conditions are right there is good salmon fishing to be had at Alford Castle Forbes – tickets are also available at the Forbes Arms Hotel (25 minutes – Tel: 01975 562108) and at Monymusk at the Grant Arms Hotel (40 minutes – Tel: 01467 651226) and many of the lower beats.
Mr Neil Gallacher, Skellater House, Strathdon. 019756 51386 or 07711 969727.
Mrs Taylor, Delnabo Estate on the River Avon at Tomintoul Tel: 01807 580 366 (Good if there is plenty of water).
Activities for Chlldren »
There are three great places to take children for day trips.
Crathes Castle
Near Banchory (fifty minutes from Tornashean) has a new adventure playground called "Wild Wood Adventure Play".
www.nts.org.uk
Cairngorm Reindeer Centre
At Glenmore near Aviemore. One hour ten minutes from Tornashean. Children and adults love seeing the reindeer herd and being able to feed them individually close up as they are very tame.
www.cairngormreindeer.co.uk

Landmark Forest Adventure Park
At Carrbridge – about one hour from Tornashean. A really good fun adventure park as well as having an educational nature trail and a hot house with birds and butterflies.
www.landmarkpark.co.uk

Closer to home, children, supervised by adults, love exploring the river at Tornashean. The river runs past the house, at the bottom of the field. There is also a path to the top of our beat of the river. We have all sorts of wildlife to discover and it is nice to take a picnic down to the river's edge.
Walking in the Cairngorms »
Tornashean is also ideally located for walking in the Cairngorms and is located a few miles within the new Cairngorms National Park. Start points for walking into the high Cairngorm mountains and plateau are villages like Braemar, Aviemore and Tomintoul – all not far by road.
Wildlife at Tornashean »
At Tornashean you will have a good chance of seeing our resident Red Squirrels who live mainly in the Caledonian Pines across the river directly opposite the house. They do also sometimes come into the garden.
We also have rabbits by the hundred (please keep all gates closed at night because the rabbits come in and decimate the garden) plenty of Roe Deer (see them mainly in very early morning or late evening) in the vicinity of the house.
More elusive are the Otters (there is a pair whose territory includes our stretch of river), Capercaillie up in the large pine woods (even more elusive) and adders – not normally seen around Tornashean but up in the hills sunning themselves when it is hot.
We never used to have midges but over the last ten years or so the winters have been very mild and pathetic by Strathdon standards which has meant that some midges can survive the winter. However, they are not a problem at all compared to the West Coast beasts.
Wildlife out on the Hills »
Out on the hills you will see Red Grouse, Blue Hares (they turn white in winter) and Red Deer. Occasionally one may see Blackgame (quite rare these days) and Ptarmigan (the Mountain Grouse – which also turns white in winter).
Birds of note around Tornashean include Buzzards, Herons, Oyster Catchers, Sandpipers, Dippers, Ducks and Goosander. In the garden we are visited by Siskins and Woodpeckers and in the woods across the river can sometimes be seen Scottish Crossbills and Long Tailed Tits.
Skiing at Lecht »
Tornashean is one of the nearest self catering options for Lecht Ski Centre Scotland's skiing and snowboarding destination. Family and beginner friendly ski and snowboarding. Lecht Ski Centre »
The Lonach Gathering »
Lonach Highland Gathering & Games. Always the 4th Saturday in August.
Lonach Website »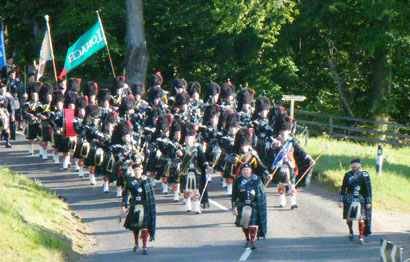 Lonach Gathering – Lonach Highlanders & Band arrive at the Lonach Highland Games
Dufftown »
Tornashean is 40 minutes from Dufftown – the '"Whisky Capital" of the Highlands and home to Glenfiddich,Balvenie and Mortlach distilleries. Drive via the Lecht ski area and turn right just before Tomintoul into Glenlivet. This is a very pretty glen which will take you to Dufftown via the Tamnavoulin, Glenlivet and Chivas Bros distilleries.
There are also many other distilleries in neighbouring Speyside, quite a few of which are part of the "Whisky Trail" and have visitor centres, guided tours and tastings. The best place to go for serious whisky tasting (it also reputedly actually serves food) is the Craigellachie Hotelwhich is just the other side of Dufftown by the river Spey.
From here one can drive back to Tornashean via the Cabrach (the road between Dufftown and Rynie) and back up Strathdon.
The Spirit of Speyside Whisky Festival is a mecca for whisky lovers worldwide.
The Whisky Trail »

Follow the world-famous Malt Whisky Trail through Speyside to seven working distilleries, including a fascinating cooperage and a historic distillery. Visit Scotland's Whisky Trail website – the only malt whisky trail in the world.
Malt Whisky Country »
Tornashean is literally around the corner from Glenlivet, a beautiful glen which is the home of the Glenlivet Distillery, one of the oldest and most famous distilleries on Speyside. Speyside today has 51 working distilleries including other famous names like Glenfiddich, Balvenie, Macallan, Glen Grant and Glenrothes.
The closest distillery to Tornashean as the crow flies is Tamnavoulin Distillery at Tomnavoulin in Glenlivet. There is an old whisky smuggling path from there over the Ladder Hills into Strathdon via the Nochty Burn in Glen Nochty which dates from the days before legal distilleries were established starting in the 1820s.
Quite a few distilleries have visitor centres and a good way of embarking on a comprehensive tour is by going on the Malt Whisky Trail which will take you on a tour of some well known distilleries and also the Speyside Cooperage at Craigellachie where barrels, hogsheads and butts are reconditioned ready to be used again. www.maltwhiskytrail.com and speysidecooperage.co.uk
Dufftown, which is about fifty minutes from Tornashean, is essentially the world capital of whisky. The town has the highest concentration of distilleries in the world, being home to the Mortlach, Balvenie, Glenfiddich, Dufftown, Glendullan, Kininvie and mothballed Convalmore distilleries.
The local adage goes that "Rome was built on seven hills, Dufftown stands on seven stills".
Due to its high production ability, Dufftown is one of the most powerful towns in the whisky industry. It has been said that Dufftown (population 1,667) raises more capital for the British Government per head of population than any other place in the country.
Also in Dufftown is the Whisky Shop, which has over 600 different malts for sale. www.whiskyshopdufftown.com. Even the local Costcutter in Balvenie Street has nearly 200 malts to choose from – at very competitive prices.
My favourite distilleries with visitor centres are the already mentioned Glenlivet Distillery – www.theglenlivet.com.
Glenfarclas Distillery, very near the Glenlivet at Ballindalloch on the A95. www.glenfarclas.com, and also GlenDronach Distillery at Forgue near Huntly.
GlenDronach is technically a Highland distillery rather than a Speyside as it is just outside the Speyside area. www.glendronachdistillery.com
All three produce exceptional malts from both ex Bourbon oak and Oloroso sherry oak casks with GlenDronach specialising in mostly sherried malts.
At all three distillery shops are many malts that are not available anywhere else. At the Glenlivet distillery visitor centre there are now around fifteen different cask strength variations available, At Glenfarclas and GlenDronach it is possible to buy a malt from the year of ones birth – at a price ! At GlenDronach there is also a treasure trove of very rare cask strength malts not available in any shop or duty free outlet.
The Cairngorms National Park is the largest national park in the UK and is one of the country's most special and cared for landscapes with a wide variety of traditional and unique villages and communities. The website is your gateway to the Aviemore and Cairngorms, Angus Glens, Atholl and Glenshee, Tomintoul and Glenlivet and the Royal Deeside and Donside areas – see more at: visitcairngorms.com
Location & Local Info
Situated in the village of Strathdon, home to the famous Lonach Highlanders, Tornashean is a large holiday house, perfect as a base for exploring this land of rich heritage and spectacular landscapes. There are numerous castles to visit in the vicinity, relics of a bygone era – particularly impressive is the 15th-century fairytale castle of Craigievar. Royal Deeside, home to Balmoral, is a short drive away, as is the regal spa town of Ballater (the jewel of the Cairngorms). Having provided the royal household with basic provisions, the local shops at Ballater display crests above their doorways, and the elegant station, which once greeted Queen Victoria on her first visit to Deeside, now functions as a tearoom.
Distances to nearby cities, towns and services: Aberdeen is 45 miles away and takes just over one hour to get there. Inverness is about 65 miles and takes approximately one hour and 25 minutes. Aberdeen Airport (Dyce) is just north of Aberdeen City centre and is very easy to get to without having to go into any part of the city – it takes about one hour.
Pubs & Restaurants near Tornashean »
The Steading Bar
A new bar in Strathdon, two miles down the road, is open most days of the week and has a cosy pub atmosphere with a good selection of drinks, malt whiskies and basic bar food.
Tel: 019756 51497
Kildrummy Inn
A very good restaurant eleven miles towards Aberdeen. Really lovely food from an award winning chef. Great atmosphere – open most days except Tuesdays.
Tel: 019755 71227
The Clockhouse Restaurant, Tomintoul
In Tomintoul seventeen miles over the Lecht. Fine Highland cuisine – a very good menu consisting of very well cooked local food. Highly recommended.
Tel: 01807 580378
Further afield in Ballater nineteen miles away:
Rothesay Rooms
Award winning Royal Deeside restaurant situated at the Old Royal Station. A tribute to Scottish flavours.
Tel: 01339 753816
Also highly recommended:
Clachan Grill
Bridge Street, Ballater.
Tel: 01339 755999
Lastly, for a very interesting experience we have the Fife Arms in Braemar – twenty  five miles away. The whole hotel is essentially an art gallery. Formal dining room plus the more casual Flying Stag restaurant.
The Fife Arms
Tel: 01339 720200
Local Shops »
The nearest town for food shopping which also have banks, tackle shops, hotels, restaurants and gift shops is Ballater (16 miles) on Deeside. Nearly every shop here is "by Royal Appointment" as Balmoral is very near.
Other towns include Grantown on Spey (40 minutes) , Huntly (40 minutes) where there is a good Somerfield supermarket and Alford (30 minutes) where there is quite a good large Co-op.
The Spar shop at Bellabeg (half a mile down the road) is quite a surprising Aladin's cave and has most things including a post office.
Nearest Petrol »
The nearest petrol is now at Glenkindie (15 mins towards Aberdeen). Quite a few local petrol stations have closed within the last few years and it is best to keep your tank quite full as there is now no petrol available between Grantown on Spey & Glenkindie – almost forty miles!
Car Servicing & Repairs »
A new Garage opened by Bruce Mackie in Roughpark: telephone: 07703 520 349 – emergencies and reapairs (no fuel).
Bespoke Leather goods manufacturer »
Simon Baker has opened a wee shop in Roughpark and will make luxury leather goods to order, repairs also available. Tel: 019756 51213
Simon Baker Casemakers website »
Castles & Historic Attractions »
Aberdeenshire is absolutely riddled with many historic and important castles: Balmoral, Corgarff, Kildrummy, Crathes, Craigevar, Dunnottar, Castle Fraser, Fyvie and Drum to name but a few. It undobtedly has the biggest concentration of castles in the country and is a castle buff's paradise.
For more information about historic attractions including castles and stately homes in Aberdeen, Aberdeenshire and Moray visit:
www.welcometoscotland.com
Aberdeenshire has more castles per acre than anywhere else in the UK. There are literally dozens of different castles to visit and within reach on a day trip from Tornashean. To name but a few:
The North East Castle Trail
A wonderful tour of seven castles owned by the National Trust for Scotland and includes Crathes Castle, Drum Castle, Castle Fraser, Craigevar Castle, Leith Hall, Fyvie Castle and Haddo House.
www.nts.org.uk
Dunnottar Castle
The most atmospheric Castle is arguably Dunnottar Castle near Stonehaven on the Aberdeenshire coast. It is in a beautifully wild and romantic position perched on top of cliffs looking out to sea and has its past hosted both William Wallace and Mary, Queen of Scots.
www.dunnottarcastle.co.uk
Corgarff Castle
Locally we have Corgarff Castle which is about seven miles away on the road to Tomintoul. Corgarff Castle dates from the 1500s and has quite a macabre early history. After the 1745 Jacobite Uprising it was garrisoned by government redcoats for 95 years who used it to keep local Jacobites under control and latterly to try and quell the thriving local trade in illicitly distilled whisky.
www.historicenvironment.scot
Kildrummy Castle
The historic seat of the Earls of Mar is just ten miles from Tornashean on the road to Aberdeen. It is from here that the Earl of Mar went forth to Braemar in 1715 and raised the Jacobite standard in support of the Old Pretender (Bonnie Prince Charlie's Father) to start the 1715 Jacobite Uprising.
www.historicenvironment.scot

Castles with Spectacular Gardens »
The two most notable gardens open to visitors are Kildrummy (ten miles towards Aberdeen and next to Kildrummy Castle Hotel) and the gardens at Crathes Castle on Deeside – both will be of great interest to keen gardeners.
Kildrummy Castle Gardens
Crathes Castle, Garden & Estate

Ballindalloch Castle
Fifty minutes away via Glenlivet, is situated in a beautiful position on the banks of the Avon (pronounced Arn) where the Avon joins the Spey. Arguably the most beautiful estate, with the river Spey running through the policies and home to the oldest pedigree herd of Aberdeen Angus cattle in the world.
There is a wonderful Walled garden which is in its prime from late June onwards and a spectacular rock garden built on a hill which has a fabulous collection of rhododendrons and Azaleas which is usually at its best in May. A wonderful collection of mature trees in the policies. The Castle itself dates from the 1546 and has a fascinating history and interior.  A great tearoom/restaurant.
www.ballindallochcastle.co.uk

Crathes Castle
Near Banchory on Deeside is about 50 minutes away by road from Tornashean. Dating from the 16th century the castle is also very well preserved and original and the gardens and policies are inspirational with a wonderful and beautifully kept walled garden, and lovely mature trees. A very good tearoom/restaurant.
www.nts.org.uk
Balmoral Castle
Last but not least Balmoral Castle is only about 16 miles from Tornashean. It is possible to visit anytime during the season apart from when the Queen is in residence during August and September. Part of the castle is open to the public and all of the gardens. It is possible to go into the greenhouses and the kitchen gardens which produce most of the vegetables for the Royal household. There is a good tearoom/restaurant for lunch.
www.balmoralcastle.com
Gordon Castle
For the most incredible restored walled garden. Gordon Castle at Fochabers near Elgin is about one hours drive from Tornashean via Huntly and Keith. The walled garden is one of the largest in Britain being eight acres in size and producing an amazing array of seasonal fruit and vegetables, many of which are for sale. There is also a very good restaurant.
www.gordoncastle.co.uk
Galleries - Lost Gallery »
The Lost Gallery, established in 1994, is set deep in the beguiling tranquillity of Glen Nochty, a delightful drive through the woodland that surrounds Upper Donside.
Today, the Lost Gallery is one of the most interesting and unusual venues in Northern Scotland, with an excitingly eclectic selection of paintings, sculpture and photography.
Modern Art Gallery, Strathdon, Aberdeenshire
Lost gallery website »
Galleries - McEwan Gallery »
The McEwan Gallery, a family business, specialising in quaility paintings of the last three centuries, was founded over forty years ago.
Although dealing primarily in works by Scottish artists, including contemporary examples, the Gallery also carries a small selection of English & Dutch works.
Ballater (A939), Aberdeenshire, AB35 5UB –
McEwan Gallery website »
Gerard Murphy Photography »
On-line Gallery of images from the Far East, the Sub Continent, and from Gerard's home here in Scotland. A small exhibition can be found at a local village hall, please check for opening times – Tel: (+44) 7501 086 882 Email:info@gerardmurphy.co.uk
Gerard Murphy Photography website »
Family Fun - Landmark Forest Adventure Park »
"Landmark" at Carrbridge (50 minutes) just the other side of Grantown on Spey is a fantastic place to take children of all ages for a day out. It has been going many years and has nature trails and lots of water slides and tasteful amusements for children as well as a restaurant.
Landmark Forest Adventure Park »
Family Fun - Deeside Activity Park »
Only 45 minutes from the centre of Aberdeen we offer activities ranging from quad biking round our mud-splattered course and kart racing on our asphalt racing circuit, to hitting the bullseye on our fully automatic archery range and breaking a clay at our clay shooting facility. In addition, we also offer 4×4 offroad driving, paintball, and rifle target shooting amongst others. A restaurant and Farm Shop area also on site
Deeside Activity Park »
Family Days out in Grampian »
Visit the website for information on theme parks, animals & nature, museums, water fun and play centres, history, beaches, transport, arts and crafts and all general kids fun in the area.
www.daysoutwiththekids.co.uk
Beaches - Balmedie & the East Coast »
Tornashean is about one hour's drive from the East coast where there is a good beach at Balmeddie (just north of Aberdeen) and a similar distance from Stonehaven (via Banchory) where there is a wonderfully atmospheric ruined castle – Dunnotar, which is perched on the cliffs.
Beaches in Aberdeen, Aberdeenshire & Moray »
Balmedie Beach: One of Scotland's longest beaches it stretches south for 14 miles from the mouth of the River Ythan to the River Don at Aberdeen. The easiest place to reach the beach is from the Balmedie Country Park, 8 miles north of Aberdeen and signposted off the A90. 
Beaches - Findhorn & Findhorn Beach »
Close to the historic village of Findhorn, this is one of the most popular beaches on the Moray coast. It is a good place to see seals hauled out at low tide on the sandbank at the mouth of the River Findhorn. The top of the beach is shingle, so at high tide there is little sand exposed.
At the back of the beach near its western end there is an impressive a line of large concrete tank-traps and the occasional pillbox erected at the start of World War II when it was thought that the Germans might invade the country. Further east, where the beach has been eroded, the seaweed covered pillboxes sit tilted an odd angles some 30 metres from the shore.
Well worth a visit, and close to the beach, is the Findhorn Heritage Centre. The village itself has a couple of good pubs, a restaurant and a café.